CURRENT ISSUE
Vol. 3, No. 1 January, 2012
IN THIS ISSUE
*****************************************************************************************
SALT LAKE CITY TRIP – February 5-19, 2012
Jane McNamara from the Toronto Branch of the Ontario Genealogical Society is co-ordinating her 19 th annual Family Tree tour to Salt Lake City, Utah in 2012.
You can contact Jane or Royal City Travel, Guelph at genealogy@royalcitytravel.com
***
RESEARCH FROM A QUEBEC MARRIAGE CERTIFICATE
by Sonia Tkachuk van Heerden
One of the students from my Eastern European genealogy course 2 years ago finally found a marriage certificate for her husband's maternal grandparents in Drouin, from Quebec. She wanted information on the places of birth and the last names. She believed one member of this couple may have been Polish and one Ukrainian.
I thought that the place of birth of the bride was Ozirna. The Genealogical Gazetteer of Galicia indicated that this place was called Jezierna in Polish, in the Zboriv Raion (County) in Ternopil Oblast (Province) in Ukraine.
The bridegroom's surname was spelled 3 different ways in this document.
I posted a copy of this marriage certificate on the Galicia newsgroup ( GaliciaPoland-Ukraine@yahoogroups.com ) and soon had a dialogue going with members. We finally agreed that the groom's parents were Fred Stadnyk and Anna Orlianski, but we could not find his place of birth. The closest place we could find is Nowosielec.
There is one in Nisko District in Poland. It has no Greek Catholic Parishes but does have a Roman Catholic Parish in Jezowe, Raclawice. This one may be hard to find because there are also Nowosielce, Nowosielica, Nowosielce Gniewosz and Nowosielce Kozickie in the old Austria.
Bride – Anna Ragusz, 21 years from Sudbury
Place of Birth: I suggested Ozirna to the others on the Galicia site, and they agreed. That is the Ukrainian spelling, and the Polish spelling (which will have to be used for research) is Jezierna in Zboriv County of Ternopil Oblast in Ukraine.
Her parents a man in Ukraine has suggested as Theodore/Theodosius Ragusz and Jadwiga Latinski. (This spelling for the woman's name may make this the Polish side of the family.)
I notice that they were married by license, so there may be a license somewhere to look at. It would help to find another document to check these spellings.
A member of the Galicia newsgroup found information on the origins of Jezierna from its original 700 inhabitants to the battles held there and its present Wikipedia site.
She also found information on the Roman Catholic and Greek Catholic churches in the area, and the Family History Library site indicating what microfilms were available for research.
http://www.familysearch.org/ Eng/Library/ fhlcatalog/ supermainframese t.asp?display= topicdetails& subject=583026& subject_disp= Poland%2C+ Tarnopol% 2C+Jezierna+ %28Zbor%26% 23xf3%3Bw% 29+%2D+Church+ records&columns= *,0,0
People on the Galicia newsgroup from Canada, USA and Ukraine supplied the above information.
I have passed this information on to my correspondent and hope that this takes her a little further in her research.
CLASS AND NATIONAL IDENTITY IN GALICIA: SKETCHES OF A PRZEMYSL FAMILY 1870s-1940s
By Dr. Ksenya Kiebuzinski – talk October 11, 2011
On October 11, 2011, Dr. Ksenya Kiebuzinski, Head, Petro Jacyk Central & East European Resource Centre, University of Toronto Libraries, gave us a talk on "Class and National Identity in Galicia: Sketches of a Przemysl Family 1870s – 1940s."
Dr. Kiebuzinski's talk was based upon collections of periodicals, books, newspapers and online digital directories and books, all available through the Petro Jacyk Centre at Robarts Library in the University of Toronto.
The following is the information she sent us in connection with these resources:
SELECTED RESOURCES FOR UKRAINIAN GENEALOGICAL RESEARCH
I. University of Toronto Libraries' Resources
The Petro Jacyk of Ukrainian Serials, 1848-1918 ,
http://pjrc.library.utoronto.ca/publications/bibliographies-catalogues-etc/Guide%20to%20newspapers.doc
The collection contains over 175 periodical titles dating from 1848 to 1918 that were published in the Habsburg provinces of Galicia, Bukovina, and Transcarpathia. Among the titles are the oldest Ukrainian serials: Dnewnyk ruskij and Zoria halytska; the most important late 19 th-century Ukrainian literary and public affairs journals: Literaturno-naukovyi vistnyk, Pravda, and Zoria; and the scholarly journals of the Shevchenko Scientific Society: Zapysky, Chasopys pravnycha i ekonomichna. The collection also includes the two most influential Galician newspapers: the Ukrainophile Dilo and Russophile Slovo; the German-language daily published in Chernivtsi, the capital of Bukovina, Czernowitzer Zeitung, as well as the only Hungarian-language journal devoted to Ukrainian affairs: Ukránia.
Schematisms for the Eparchies of Przemysl and Lviv
These volumes provide useful documentation for those researching family members who were members of the Greek Catholic clergy. Information includes dates of birth, ordination, and death for many, as well as parish assignments.
Blažejowskyi, Dmytro. Historical Šematism of the Archeparhy of L'viv (1832-1944). Kyïv: Publishing House "KM Akademia", 2004. 2 vols.
Blažejovskyj, Dmytro. Historical Sematism [i.e. Schematism] of the Eparchy of Peremys [i.e. Peremyshl] Including the Apostolic Administration of Lemkivscyna [i.e. Lemkivshchyna] (1828-1939). Lviv: Kamenyar, 1995
Shevchenko Scientific Society Regional Histories
The Shevchenko Scientific Society has since 1960 published over 40 valuable collections of historical and memoiristic articles about regions and vicinities of Galicia in its Ukrainskyi arkhiv (Ukrainian archive) series. The books often contain information on local personalities, and, by consulting those that are indexed, one may discover mentions of family members. There are volumes published, for example, for the following regions: Berezhany, Brody, Buchach, Chortkov, Drohobych, Horodenka, Iavoriv, Ivano-Frankivsk, Jaroslaw, Kolomyia, Komarno, Pidhaitsi, Rohatyn, Stryi, Ternopil, Uhniv, Zbarazh, Zboriv, Zolochiv, etc. Search specific areas in the UTL catalog at: http://search2.library.utoronto.ca/UTL/search.jsp
II. Online Resources
Ukrainian Newspapers: Svoboda (http://www.svoboda-news.com/arxiv.htm),
Ukrainian Weekly (http://www.ukrweekly.com/), and UNA calendar-almanacs (http://www.svoboda-news.com/almanac.htm)
Svoboda is the oldest existing Ukrainian newspaper in North America. The open digital archive covers the years from the newspaper's founding, in 1893, to the present (less-one year for non-subscribers), and includes (as of November 2011) over 23,000 issues. It is full text-searchable in the Ukrainian vernacular. In its pages one can find news items, announcements, search notices (poshuky, especially after the Second World War), and obituaries. The newspaper reported on events in Ukraine, and on Ukrainian life in the United States, as well as serving as the main source of information for Ukrainians in Canada before the emergence of Ukrainian newspapers here. The Svoboda Press is also responsible for publishing the weekly English-language newspaper Ukrainian Weekly (since 1933), and the annual calendar-almanacs (1897, 1901-1936, 1940, 1944, 1949, and 1951-present).
Genealogy Indexer : http://genealogyindexer.org
The Genealogy Indexer is full-text and soundex searchable, and presently (as of November 2011) includes over 150,000 pages of historical directories (business, address, telephone, government, medical, etc.) for Central and Eastern Europe, with substantial coverage of Galicia during the Austro-Hungary and interwar periods. Additionally one can search over 10,000 pages of lists of Polish military officers, and over 10,000 pages of gymnasium annual reports, including ones for the cities of Drohobych, Lviv, Stryi, etc.
To view most documents, users need to install a DjVu plugin for their web browser
Małopolskie Towarzystwo Genealogiczne :
http://www.mtg-malopolska.org.pl/bibliotekacyfrowa.html
The digital library of the Malopolskie Towarzystwo Genealogiczne (or Malopolska Genealogical Society) includes a number of useful genealogical resources. The most important one is the annual Szematyzm Królestwa Galicyi i Lodomeryi z Wielkim Księstwem Krakowskim na rok [...] which was issued by the Austrian administration, and covering Galicia. The digital library offers free access to most volumes from 1781-1913 (with some gaps), and each one includes a name index in the back. Those families whose ancestors were civil servants, such as judges, lawyers, medical doctors, postal clerks or teachers, or who held public office, are likely to be listed in the pages of this handbook. Additionally, the digital library provides access to directories for the Greek-Catholic church, and address books for the city of Lviv (1883, 1897, 1935/1936).
Hathi Trust Digital Library :
HathiTrust is a collaborative library initiative, and serves as a digital repository to close to 10 million volumes (over 5 million book titles and over 250,000 serials), including material published in English, Ukrainian, Polish, Russian, German, etc. HathiTrust offers a full-text searchable platform across all items held in the repository. Due to copyright regulations, researchers in Canada may not have access to complete texts, but by clicking on the "Limited (search-only)" option for each catalog record, and then clicking find in the "Search in this text" box, they can locate specific page references to given personal or place names, etc. The University of Toronto Libraries may have the volumes in its collections (search: http://search2.library.utoronto.ca/UTL/search.jsp) where the page reference can then be verified.
Digital Libraries Federation:
http://fbc.pionier.net.pl/owoc
The Digital Libraries Federation (or Federacja Bibliotek Cyfrowych) includes (as of November 2011) nearly 800,000 publications. It serves as a portal to material digitized by a number of academic libraries in Poland. The database interface (available in Polish and English) searches by keywords across titles, authors, and subjects (the database is not full-text searchable), and offers free access to publications in various formats (DjVu, HTML, PDF, etc.). Of particular interest are the many local histories for towns in Galicia, some newspapers, and gymnasium annual reports. Most material is in Polish, but some is available in Ukrainian. It is best to search place names currently within the borders of Ukraine by their Polish spellings (i.e. Stryj, Tarnopol, Lwow, etc.).
IS AN ANCESTRAL TOWN REQUIRED?
by Ron Wencer – Talk November 8, 2011
We tell newcomers that identifying their ancestral town(s) is a prerequisite for successful genealogical research. Excellent advice – but what if someone has no ancestral town? This article outlines my meandering investigative path through 15 years of research into ancestors whose families were denied the opportunity to live in a single place.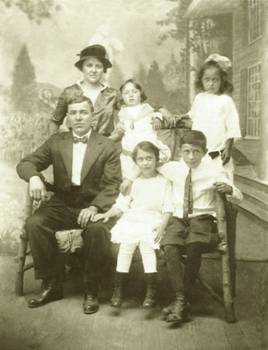 Marianna Lipinska, my grandmother
By 1995, my maternal grandparents had become relative mysteries.(1) Both Michal Siłakowski and his wife Marianna had died in the 1930s, before their first grandchild was born. My Aunt Tekla, their only remaining offspring when I began my research, had been orphaned at the age of nine. Our knowledge of Marianna's Lipinski ancestry was understandably scant.
Her father's name had been Ignatius, his wife's Marcella, his mother's Agnes. We believed that Marianna and Michal met and married in New York City prior to World War I. Each had been born in Europe; each had numerous siblings. That was all anyone knew.
Family of Marianna and Michal Siłakowski;
my mother Agnes is seated in the front row.
Photo taken c.1913

After two years of research, primarily using LDS microfilms,(2) I knew that my Lipinski great-grandparents' family, including the little girl who would become my grandmother, had sailed from Bremen to Castle Garden(3) in 1888. The Passengers List for their voyage bore only a semi-legible name for their former place of residence: Gusa, Gura, Gurs, Guss, or ?
I located a microfilmed image of Ignacz' Petition for Naturalization,(4) which listed his birthplace as "the district of Inowrocław." Putting together the two references and a good map, it seemed likely that the family had come from Góra, a village then in the Prussian province of Posen, near the town of Inowrocław. Happy with my progress, I expected to make further advances swiftly.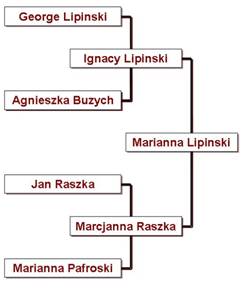 Marianna Lipinska's ancestry, per the
NYC Death Certificates of her parents
European Sources
I soon was poring over microfilms for Góra, seeking records of my grandmother's 1883 baptism and of her parents' earlier marriage. I found neither. Worse, two more years of reviewing microfilms for nearby villages yielded, not links to my ancestors, but merely a handful of unknown people named Lipinski or Raszka (Marcella's maiden name).
I was perplexed; I paused my efforts and reassessed the situation. Clearly, my approach had not worked: after more than four years of research, I was reduced to guessing where the family had lived.(5)
Before I ordered any more microfilms, I needed to learn more about the "district of Inowrocław."
Thwarted by History
In the 18 th Century, conflicts between newly powerful Russia, Prussia, and Austria had been felt keenly in the Inowrocław area. Armies had traversed the land multiple times in pursuit, battle, occupation, and flight. Due to the Partitions of Poland, and then post-Napoleonic changes to 19 th Century Europe, Prussia ruled the region, although Russian territory was uncomfortably close.
Prussians were dominant in the unification of the German Empire.(6) By the latter 1800s, Crown Prince Friedrich (later briefly Kaiser Friedrich III) and Chancellor Otto von Bismarck (also a Prussian nobleman) together had taken steps to diminish the power of, and even to deport, Poles. Polish ownership of business and real property was effectively strangled. Many Polish clergy were imprisoned, or had fled; a significant number of Catholic parishes were without priests.
The lives of Polish peasant families were de-stabilized. Jobs evaporated as German settlers were encouraged by the government to replace Polish businesses-owners and landowners, and some Poles had to move frequently in search of work. If the peasants' priest had to abandon his parish, a marriage, death, or baptism would mean a journey to wherever a Polish priest could be found.
My lack of success researching parish records eventually led me to suspect that the Lipinski family had been caught up in this inter-cultural turmoil. Perhaps they had left behind records, not in the abandoned parishes in which they lived, but instead in random other parishes which by chance had been able to retain clergy. If this was so, what prospects did my research have? What new strategy might I employ? I knew of no further European leads to follow.
Before looking again to Europe, I looked to New York City.
Someone Else's Family
Years earlier, when visiting some family graves in Queens, I noticed nearby the grave of a man named Walenty Raszka. I did not give him much thought at first – any number of unrelated Polish New Yorkers shared surnames with my family. Nonetheless, Raszka did seem a fairly uncommon name, and with my research stalled, this stranger now interested me. I decided to research his family, in the far-fetched hope that his story might intersect with my family's past.
I learned that he had arrived via Bremen less than a year after Ignacz. Walenty had immigrated with several close relatives, including two sisters; early on, they lived very close to the Lipinski family. The family's prior town of residence was not named on "their" Passenger List, nor was it recorded when Walenty became an American citizen. Later, his Death Certificate reported his father's name as Joachim, but provided no mother's name at all. I probed further. A visit to the NYC Archives revealed that his mother had died only months after immigrating with Walenty; her entry in the town Death Register(7) provided a birth surname of Bahrosky.

Parentage of Walenty Raszka and Marcella Raszka, as reported by members of their respective families
Nothing I had learned about Walenty established a connection to Marcella. His sisters, Constantina and Apolonia, had disappeared from my genealogical radar soon after immigrating. Could I trace them? I did not know what had become of the women, but I was prepared to make some assumptions and undertake a limited search. Probably, each had married – but they might not have remained in New York City. With no surnames for their hypothetical husbands, I could use only the women's first names as I searched. I chose to focus on Constantina.(8)
My primary resource would be U.S. Census data for 1900, 1910, 1920, and 1930,(9) which by now was available online. I arbitrarily limited my search to the Boroughs of Queens and Brooklyn, each readily accessible to the place where the Raszka family lived shortly after their arrival in New York. I looked only for women born in a certain range of years, who reported their year of immigration at about 1889, whose apparent ethnicity or place of origin was appropriate, and whose year of first marriage was later than their immigration year.
I cross-referenced the preliminary results with online NYC Vital Records Indices, (10) a step which eliminated from consideration several women whose maiden names were not Raszka. I also checked censuses for any siblings or parents who lived with the women's families, thereby screening out more women whose birth surnames were incorrect. In the end, I had compiled a list of about two dozen Connie's, Constances, and Constantina's. One – or none – of these women might later prove to be Walenty's sister and a relative of Marcella.
Although an interesting and useful exercise, I was not sufficiently confident to make a trip to the New York City Archives just to prove that any of these women was, or was not, Walenty's sister. I would defer that investigation until I was in New York for some other purpose.
Unexpected Help
Early on, I had exchanged messages with members of a genealogical forum. Seeing my posting of Marcella's parents' names, one forum member told me that the surname reported as Pafroski would probably turn out to be Paprocki. Although we did not maintain contact for long, he later remembered that exchange as he pursued his own research. Now, almost a decade later, he graciously tracked me down(11) and provided me with information which he had discovered while researching Paprocki families at various archives in Poland.

En route, he had looked for connections between people named Paprocki and Raszka, and had found only one – the marriage of a Joachim Raszka and a Marianna Paprocki. Parish records were incomplete, and thus did not list all their children, but the existing records showed that this couple went on to have a son named Walenty and a daughter named Apolonia. I concluded that he had come across the very Walenty whose family I had been researching (whose mother's surname must have been reported incorrectly upon his death). Remembering the earlier comment about Pafroski, I wondered what other reporting errors might have occurred on my ancestors' death certificates.
Were the two sets of Raszka parents starting to converge like this?
As the village of Góra figured in some of the Paprocki research, I again ordered the microfilm that I had first seen some years earlier. A reexamination confirmed that I had not overlooked anything which I had sought in 1998: Marianna's baptismal record was not to be found. In 2005, however, I looked as well at later records, among which I found an entry for the baptism of her younger brother Josef, born just months before the family left Europe.(12)
I now could be certain that Góra was indeed the town named on the Passengers List – but with no other records for the family, I knew that it was not the Lipinskis' ancestral village.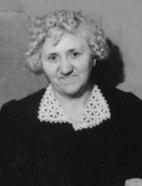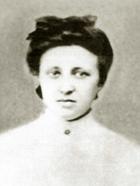 I then began working specifically on records for other towns mentioned in the Paprocki research – an approach which seemed no worse than any other – but I found no additional family records. I then modified my old tack, ordering films for towns that were near some of these places. In mid-2006, I was more than surprised to at last locate baptismal records for my grandmother and her sister Agnieszka. Despite the Lipinski family's residing in the parish of Orłowo (I already had found there was no mention of them in parish records), both ceremonies occurred some miles away, in the large town of Inowrocław.(13)
Although the family had lived for a time in Orłowo, and the baptisms were in Inowrocław, neither place seemed to be their ancestral home.
New Online Resources
I still had not found a record of the marriage of Marianna's parents, and I kept seeking new sources to tap. In late 2007, I learned of The Poznan Project, a volunteer-based effort which was creating an online searchable database of marriage records for the former Prussian province of Posen.(14) The site's records were far from complete at that time, but it held great promise for me. I made a mental note to check on its progress from time to time.
Later, I found a less narrowly focused but extremely useful resource: a free text-searchable database of millions of images of old newspaper pages from New York State.(15) My next breakthroughs would come about as the result of my searching this database, and they would come very quickly.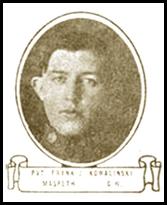 I began working through my as yet unused Constantina list, seeking any mention of each of the women in the site's many newspapers. I soon found an obituary for Anna Constance Kowalinski. While her obituary offered no connection to Marcella or Walenty, it did start me on a chain of newspaper searches for other people in her family, primarily people mentioned in articles about her son Frank, who had died at the close of World War I. There were articles about his wounding, death, and the eventual repatriation and re-burial of his remains in 1921.
Private Frank J. Kowalinski, U.S. Army,
American Expeditionary Force
Piecing together things mentioned in the different news stories, I learned that this Constantina had a sister named Apolena, who fit well with the other sister I had been seeking. At the time, I already was planning to visit New York for other reasons; while there, I viewed a microfilm of Constantina's Death Certificate. There was no longer doubt; these sisters and Walenty were the children of Joachim Raszka and Marianna Paprocki.
I mulled a notation on the Death Certificate. Upon her death, her son stated that Constantina had been born "in Poznan." That phrase prompted me to search the still-growing Poznan Project database. To my amazement, with a simple search for Marianna(16) Raszka I now found – after 15 years of trying – an entry for the marriage of Marcella and Ignacz. Although residents of Orłowo, they had traveled to the parish of Jaksice to be married. Their marriage record(17)revealed the correct names of Marcella's parents. She, too, was Walenty's sister, and thus a descendant of one of the already documented Paprocki branches. Success indeed.
It Hasn't Stopped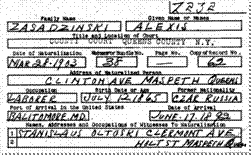 The Raszka family was large, and I continue to learn more about Kowalinski's and other cousins of my grandmother. As November 2011 began, I found a "new" obituary for Apolena Raszka Zasadzinski, from which I learned of the existence of yet another immigrant Raszka sister, Josefa. My whimsy is drawn to the three images below, which I found separately during my research. They show that the husbands of sisters Marcella, Josefa, and Apolena all became citizens on the same day, using the same saloon-keeper as a witness to their respective suitabilities for citizenship.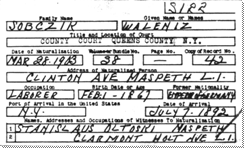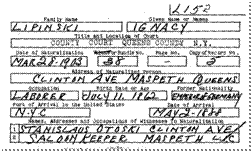 The Lipinskis' Ancestral Town Home
From the names of the parents recorded for the marriage of Marcella and Ignacz, I have worked progressively backward, using additional marriage data from The Poznan Project in concert with LDS microfilms. To date, I have mapped part of Ignacz' ancestry back to the Napoleonic era. I still have much to do, but I now can track some family branches' movements geographically.
The annotations on the Google Maps extract below (best read chronologically, if that is at all possible!) convey my present understanding of Marianna Lipinska's ancestral locale.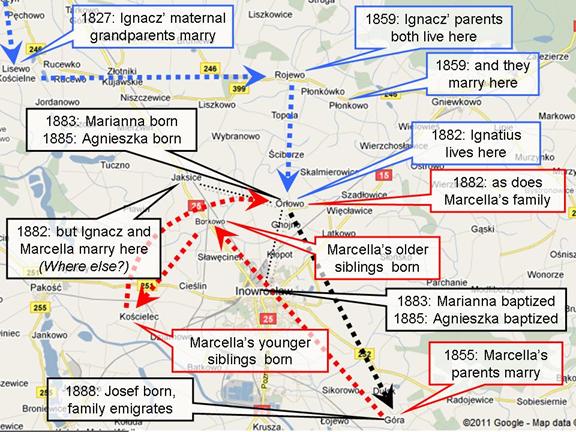 Lessons
I have attained the basic goals I had set when I began my research, albeit through means I could not have anticipated. I owe much to others, including the unknown volunteers who labor to expand our online resources.(18) Relying on church records alone would have been overwhelming and unwieldy – their organization by parish, normally invaluable, is of limited value for this family's circumstances. The flexibility and richness of today's online world proved superior.
Perhaps the two most important things I have learned about family research since 1995 are to set broad horizons, looking in many places at once, always seeking new sources, and to try to fit together without preconception whatever I may learn from each source.


UPCOMING TUGG MEETINGS
Meetings start at 7:30 p.m. unless otherwise stated
Saturday, January 14, 2012 – Field Trip to North York Library – Canadiana Branch – 2:00 p.m.
Tuesday, February 14, 2012 – Evhen Ladna – Lemko Society of Toronto – Akcja Wisła& - Ukrainians Removed from Homelands
Tuesday, March 13, 2012 – Steve Fulton – New Computer Hardware for Genealogy
Tuesday, April 10, 2012 – TBA
Tuesday, May 8, 2012 – Dr. Romana Bahry (York University) – Sources for Researching Polish Ancestry in Cracow
Tuesday, June 12, 2012 – Ron Wencer – What's New for Genealogical Research Now From 5 to 10 Years Ago?
WHO DO YOU THINK YOU ARE? THIRD SEASON
The American version of Who Do You Think You Are? returns for its third season on Friday, February 3 at 8 p.m. ET. The celebrities who star this season are Jerome Bettis, Paula Deen, Edie Falco, Helen Hunt, Rashida Jones, Rob Lowe, Reba McEntire, Martin Sheen, Jason Sudeikis Marisa Tomei, Blair Underwood and Rita Wilson. This implies it will be a 13-week season—the longest to date— demonstrating the popularity of the show.

The show is an adaptation of the award-winning hit British television documentary series that leads celebrities on a journey of self-discovery as they unearth their family trees that reveal surprising, inspiring and even tragic stories that often are linked to crucial events in American history.

Ancestry.com continues in its role as official partner on the series, helping to provide the research used to build each story.

The complete news release can be found at http://tinyurl.com/7do8f4h .

PBS To Air Another Genealogy Series
GenealogyBlog.com reports that the Public Broadcasting System (PBS) will debut a 10-part series on family roots starting March 25. This would be the second series the network presented on family history. Previously, they joined with historian Henry Louis Gates Jr. on their own genealogy quest. The new series will feature two people in each one-hour episode. Additional information can be found at http://tinyurl.com/6ttk4vy .
CONTACT INFORMATION
TUGG Newsletter is an Internet magazine published by The Toronto Ukrainian Genealogy Group, providing information of interest to persons tracing their Ukrainian family history.
To be added or removed from the TUGG Newsletter mailing list,
go to: Sign Up For Newsletter
TUGG EXECUTIVE

President

Jim Onyschuk

(905) 841-6707

Past President

Bill Dupley

(905) 277-4832

Vice-President

Open

Secretary

Open

Treasurer

Ron Wencer

(416) 769-8220

Program Chair

Sonia Tkachuk van Heerden

(416) 461-2104

Library Chair

Open

EDITOR & PUBLICITY

Gail Skikevitch

(416) 532-6190

PUBLICATIONS COMMITTEE

Jim Onyschuk

(905) 841-6707

Sonia Tkachuk van Heerden

(416) 461-2104
Should you wish to contribute, make suggestions, ask questions or submit articles, please click: Send Questions, Suggestions & Articles
---
These footnotes are from the article "IS AN ANCESTRAL TOWN REQUIRED?." . To return to the article, click the "Back Button."
(1) Yes, the pun was intentional.
(2) Useful online alternatives were rare in 1995. The LDS films were invaluable for gleaning relevant information from U.S. Census data, and for viewing the Passengers List once found, but to pinpoint the family's arrival I used a printed source at the Toronto Reference Library: the many volumes of Germans to America by Glazier and Philby.
(3) The Ellis Island facility had not yet opened as the immigration centre for the port of New York.
(4) In that era, U.S. citizenship granted to a head of family was also granted automatically to spouse and minor children. Marianna thus had no need to apply for Naturalization; there would be no file in her name.
(5) I had been limiting my research to the Prussian region of Inowrazlaw (Inowrocław), but ever widening my sights. Projecting marriages-per-capita from my fruitless research, however, I realized that covering the entire region would mean looking at the records of tens of thousands of 19 th century marriages, and I still had no hard evidence of my family's presence in the region. Continuing my approach seemed like folly.
(6) In retrospect, the dominance among Germanic peoples of a people called Prussians seems ironical. Centuries before, the original people of that name (now usually termed Old Prussians) were probably Slavic. Such non-Christian peoples were a problem for the state of Poland, which in response invited the Teutonic Knights (The Order of Brothers of the German House of Saint Mary in Jerusalem) to settle in the areas later called Prussia. In exchange for the lands they were given, the knights were to protect the native Poles and Christian pilgrims from the ravages of pagans such as the Prussians.
Over time, the Old Prussians were assimilated, yet some of their cultural identity survived; Germans in the region even adopted their former enemies' name. These new Prussians saw their identity as Germanic, but nonetheless distinct from that of the Germanic peoples to the west. The Prussian language withered, yet it survived among them for centuries, and had died by the early 19 th century.
(7) New York City's amalgamation was not completed until 1898; in 1889, the family's place of residence was part of the Town of Newtown, not New York City.
(8) I made this choice because the variants of the name Constantina would be more distinctive, and would occur less frequently, than those of Apolonia, which would include Apolena, Paulina, Paula, etc.
(9) I accessed census and other useful information (e.g., Draft Registrations for World War I) using a U.S. subscription to Ancestry.com.
(10) In cooperation with the New York City Archives, volunteers of the German Genealogy Group (website www.theggg.org) and Italian Genealogy Group (website www.italiangen.org) have created searchable online databases of NYC Vital Records. These have proved extremely useful to me, but they are limited by a constraint of the era: registration of Roman Catholic marriages with civil authorities was not mandatory for many years, and did not begin to occur regularly until after the years of interest to the research described in this article.
(11) In early 2005, I had spoken at Ontario Genealogical Society, Toronto Branch, and he had noticed my name on the group's website. He then contacted the organization, who forwarded his message to me.
The body of his Paprocki research, which includes information for some of my ancestors, can be seen at his excellent website, at http://home.eznet.net/~paprocki/genealogy/Paprocki/
(12) Due to family lore, I had not looked for Josef's baptism in 1998, as he had told his descendants that he was born aboard the immigrant ship prior to its arrival in New York, and not in Europe. I should have been more skeptical and thorough.
(13) Evidently, there was no priest in Orłowo parish in either 1883 or 1885, when the girls were baptized.
(14)The Poznan Project main screen is at http://bindweed.man.poznan.pl/posen/pomoc.php and the search screen is at http://bindweed.man.poznan.pl/posen/project.php These screens sometimes appear in English, but at other times they stubbornly remain Polish. I've given up puzzling over this inconsistency.
(15)http://www.fultonhistory.com/Fulton.html is the URL for Old Fulton New York Post Cards, which features a rapidly-growing database with millions of images of older newspapers from New York State (and also includes some pages from papers published beyond New York's boundaries). Additional information about this site was published in the Summer 2011 edition of the PGSA journal, Rodziny. From time to time, as more newspaper pages are added to the site, I make new discoveries.
(16) Marcella's baptismal name was actually Marcjanna, but the volunteer who indexed the marriage misread the entry as Marianna. I was happy to find her, and am not going to complain.
(17) Obtained via LDS microfilm, using data provided by the Poznan Project site
(18) I am proud to have joined their ranks, entering and editing data for one of the groups that builds and shares free online genealogical databases. I urge the reader to do the same if at all possible.